EV Charging Station
EV CHARGING
SHREEJI ENERGY is leading Electric Vehicle Smart charging solution provider in India.
SHREEJI ENERGY provide all type of EV smart charging solution for Individual Owners, Residential/Commercial Buildings, Shopping malls, Hotels/Restaurant, Public charging, Fleet owners, Charge point operator, Smart cities, Exclusive parking, Highway stations, EV manufactures/Service stations.
We provide a range of EV AC and DC Chargers that promises high performance and fast, effective, and sustainable functioning to bring innovative and affordable charging infrastructure with Cloud Integrated Charging Management Solution (CMS) & Mobile Application.
Chargers are compliant with ARAI Standard. We are authorized channel partner of i-elektrik. Chargers are compliant with ARAI Standard.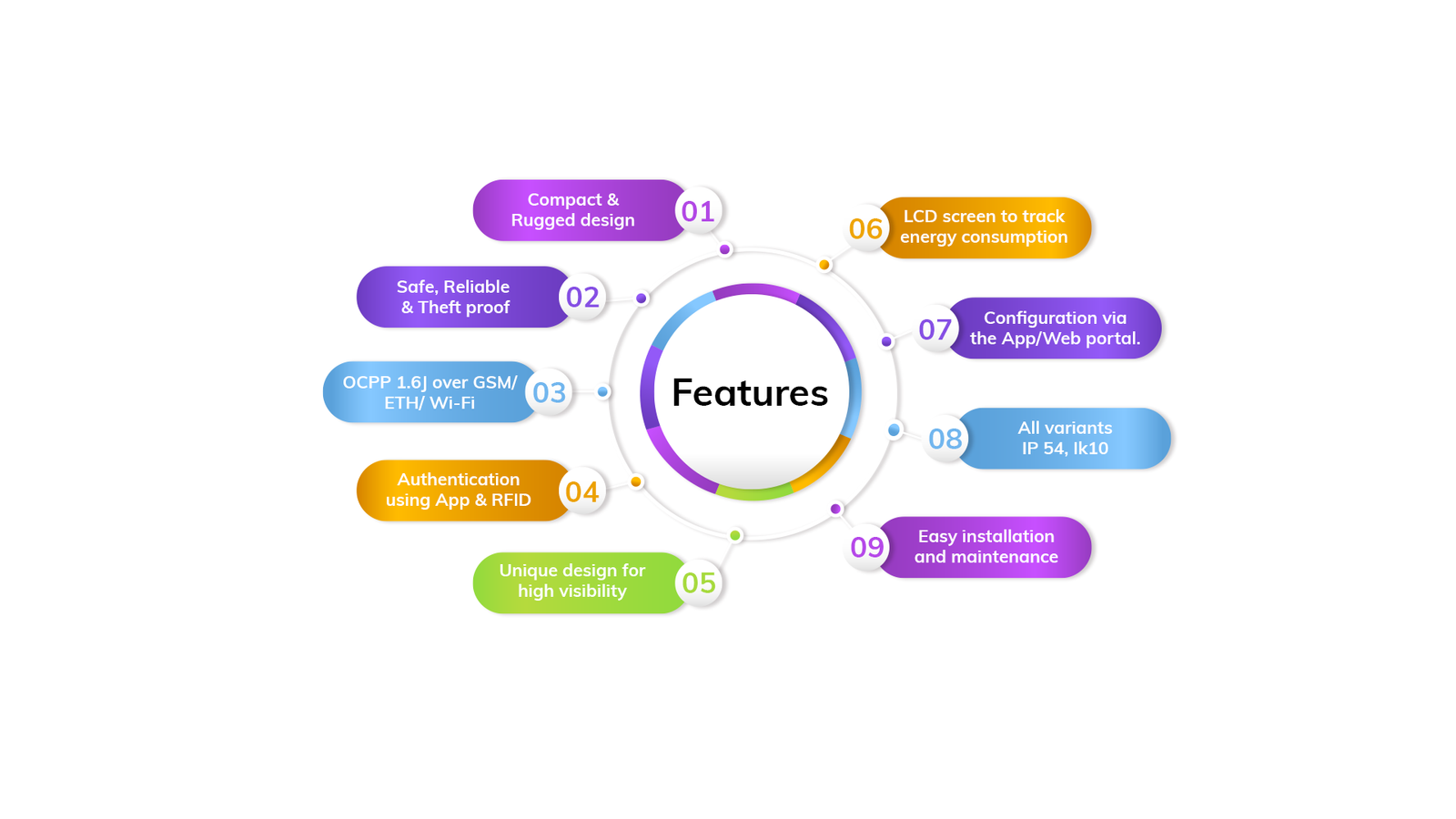 Compact & Rugged design
OCPP 1.6J over GSM/ETH/Wi-Fi
Safe, Reliable & Theft proof
Authentication using App & RFID
LCD screen to track energy consumption
Unique design for high visibility
Configuration via the App/Web portal.
All variants IP 54, Ik10
Easy installation and maintenance
Over current
Over voltage and Under Voltage
Ground fault detection
Surge protection
Emergency stop button
EV Charging Management Solutions (CMS)
The i-elektrik CMS is an end-to-end EV charging and energy management solution. It connects OCPP-enabled infrastructure with the operation centre and allows real-time monitoring of charging data.
One can provide users with end-user apps to check charging status, make payments, and further sync the app data to the dashboard to monitor charging stations in real time.
Android and iOS based mobile application for EV users
Dashboard for Real time monitoring, maintenance, and troubleshooting of chargers
Payment and Billing provision for faster and secure transaction
Dynamic load management capacities
Customer centric UI
Revenue generation & Energy reports
ROI Analytics
OCPP compliant
Partner management
Charger management system for owner which manage all entry and exits of car and revenue generated by charger also start and stop charging by mobile.
AC Charger Applications At Different Ranges
Bungalows, Dealership Shops, Exclusive Parking
Shopping Malls, Hotels & Restaurants, Housing Societies, Office Buildings, Fleet Owners, Charge Point Operator
Smart Cities, Fleet Owners, EV Manufacturers, Utility Discom